In the MEDIARE System, privacy and security are priorities and we are committed to the transparency of the treatment of personal data of our users and customers. This Privacy Policy establishes how the collection, use, storage, disposal and transfer of information from customers or others who access or use our website or services is made.
By using our services, you understand that we will collect and use your personal information in the ways described in this Policy, under the Data Protection rules (LGPD, Federal Law 13.709 / 2018), the consumer provisions of Federal Law 8078/1990 and the other rules applicable Brazilian legal system.
Thus, the MEDIARE System, hereinafter referred to simply as "MEDIARE", composed of three companies registered with the CNPJ / MF - MEDIARE Cursos Técnico e Geracionais LTDA CNPJ 09.376.441 / 0001-67, MEDIARE Dialogues and Decision Processes CNPJ 01.876.594 / 0001-61, MEDIARE Institute for Research, Teaching and Practices of Dialogue Processes and Dispute Resolution CNPJ 25.053.160 / 0001-20, in the role of Data Controller, is bound by the provisions of this Privacy Policy.
In a simplified way, the following flowchart describes the transit of your data in MEDIARE: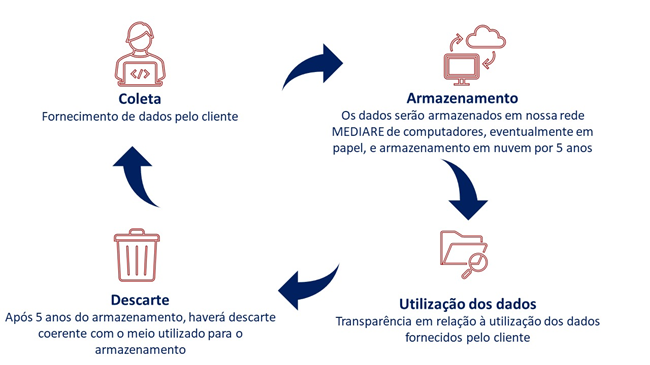 I - PERSONAL DATA COLLECTION:
Purpose / Use, Consent and Rights of the Holder
I.1. About the personal data provided by the Holder collected by our website
Our website collects and uses some of your personal data, in order to facilitate the provision of services and improve the user experience. Here are the data collected for specific purposes:
Name and e-mail, for registration in Webinars;
Name, e-mail, telephone, address, profession and mini bio, for registration in Courses and Seminars;
Name and e-mail, for e-Book enrollment;
Name, e-mail, telephone, profession, address, institution to which it belongs and subject of action of the institution, in addition to a summary of the controversy, for enrollment in Mediation of the Mediation for All Project;
Name and e-mail, for Contact us on the site
I.2. About personal data collected directly by the institution's professional
Name (PF or PJ), CPF or CNPJ, e-mail, telephone, name of the lawyer who advises you, and summary of the dispute, to request pre-mediations or private mediations, or to facilitate dialogue or other dialogue processes coordinated by MEDIARE, including seminars, workshops and in-company courses;
Name, e-mail, telephone and CPF, to participate as an Associate of the MEDIARE Institute.
I.3. About Consent
Consent is the free, informed and unambiguous manifestation by which you authorize MEDIARE to process your data.
In accordance with the General Data Protection Law, your data will only be collected, processed and stored with prior and express consent.
Your consent will be obtained in a specific way for each purpose described above (I.1 and I.2), which has its own protocol. The secretariat may provide a list of messages / statements for each purpose mentioned above - Models of declaration of compliance with the MEDIARE Privacy Policy 06/04/2021, showing MEDIARE's commitment to transparency and good faith towards its users and customers, the relevant legislative regulations.
By using the services of MEDIARE and providing your personal data, you are aware and consenting to the provisions of this Privacy Policy, in addition to knowing your rights and how to exercise them. At any time and at no cost, you can revoke your consent.
It is important to highlight that the revocation of the consent for the treatment of the data can imply the impossibility of the adequate performance of some functionality of the website that depends on the operation. Such deadlocks will be reported.
I.4. About Rights as Holder
MEDIARE guarantees its users and customers their rights as holder provided for in article 18 of the General Law on Protection of Personal Data. That way, you can, free of charge and at any time:
Confirm the existence of data processing, formally and with clear and specific demand;
Access your data, being able to request them in a legible copy in printed form or by electronic means, safe and suitable;
Correct your data, when requesting the editing, correction or updating of these;
Limit your data when unnecessary, excessive or treated in non-compliance with the legislation through anonymization, blocking or elimination / disposal;
Request the portability of your data, through a registration data report that MEDIARE deals with;
Delete your data treated with your consent, except in cases provided for by law;
Revoke your consent, disallowing the processing of your data;
Inform yourself about the possibility of not providing your consent and about the consequences of the negative.
To exercise your Holder rights, you must contact MEDIARE using the following means available:
In order to guarantee your correct identification as holder of the personal data object of the request, it is possible that we request additional documents or data that can prove your identity. In this case, you will be informed in advance.

II - STORAGE, SHARING AND DISPOSAL OF PERSONAL DATA
II.1. About Storage and Media Used
The personal data of the owners collected by MEDIARE will be used and stored for the time necessary for the provision of the service or for the purposes listed in this Privacy Policy to be achieved, considering the rights of the data owners and those of the controllers.
In general, the data will be maintained as long as the contractual relationship between the Holder and MEDIARE lasts, and for another 5 (five) years, aiming at eventual contact or remittance of disclosure of events related to our expertise, if so authorized.
In order to keep the Holder's personal information safe, we use physical, electronic and managerial tools aimed at protecting his privacy.
We apply these tools taking into account the nature of the personal data collected, the context and purpose of the treatment and the risks that any violations would generate for the rights and freedoms of the data subject collected and treated.
Among the measures we have adopted, we highlight the following:
Physical tools: only authorized persons have access to their personal data, especially when preserved in physical files - folders or files of another nature, which are found at the MEDIARE secretariat.
Electronic tools: physically in the office or in homeoffice, our staff is oriented to only use computers or laptops offered by the office, as well as using the cloud storage contracted by the office and be aware of the Backups carried out regularly. We use paid antivirus and Windows operating system packages and provide regular passwords for accessing our computers.
Management tools: our staff the secretary took a course on LGPD, is instructed to comply with our Privacy Policy and signed a declaration to preserve the confidentiality and privacy of our clients' data. Our entire network of stakeholders - suppliers, service providers, participants in institutional projects of different natures and institutional partners - sign a declaration of compliance with this Privacy Policy, in case, for any justified reason, they will have access to our customers' data. Access to this list of stakeholders (Employees and Partners - observance of the MEDIARE Privacy Policy 06/04/2021) can be done by contacting our secretariat.
II.2. About the sharing of personal data and possible incidents
MEDIARE will not share your personal data with any third party not linked to our operational or administrative chain - service provision or partnership. The shares will be motivated by a specific purpose, requesting each entity of the share to commit to this Privacy Policy.
We warn you that there are other hypotheses in which your data may be shared, which are:
I - Legal determination, request, requisition or court order, with competent judicial, administrative or governmental authorities;
II - In the case of corporate transactions, such as merger, acquisition and incorporation, automatically;
III - Protection of MEDIARE's rights in any type of conflict, including those of a judicial nature.
Some of the third parties with whom we share your data may be located or have facilities located in foreign countries. Under these conditions, however, your personal data will be subject to the General Data Protection Law and other Brazilian data protection laws.
In this sense, MEDIARE is committed to always adopting efficient cybersecurity and data protection standards, in the best efforts to guarantee and comply with legislative requirements.
MEDIARE is committed to adopting the best postures to avoid security incidents. However, it is necessary to point out that no virtual page is entirely safe and risk-free and that our website may have links to external websites that are not operated by us.
It is possible that, despite all of our security protocols, third-party guilt problems will occur, such as cyber attacks from hackers, or also as a result of the user / customer's own negligence or recklessness.
In the event of security incidents that may generate a relevant risk or damage to the Cardholder or any of our users / customers, we will communicate to those affected and the National Data Protection Authority about the incident, in accordance with the provisions of the General Protection Law Personal Data.
By agreeing to this Privacy Policy, you agree with the nature of the shares described above, which will be in accordance with the purposes also described in this instrument.
II.3. About Disposal of Personal Data
At the end of the five-year period for storing personal data, as mentioned in item II.1 above, and considering the hypothesis of non-renewal of your consent, these will be excluded from our databases, using, at the time, the appropriate means to each nature of storage, or anonymized.
The hypotheses legally provided for in article 16 of the General Law for the Protection of Personal Data are exempted from disposal, namely:
I - compliance with legal or regulatory obligations for the controller;
II - study by research body, guaranteed, whenever possible, to anonymization of two personal data;
III - transfer to a third party, provided that the data processing requirements set forth in the LGPD are respected; or
IV - exclusive use of the controller, prohibited its access by third parties, and since the data has been anonymized.
That is, personal information about the Holder that is essential for the fulfillment of legal, judicial and administrative determinations and / or for the exercise of the right of defense in judicial and administrative proceedings will be maintained, in spite of the exclusion of the other data.
II.4 About the use of Cookies on the MEDIARE website
MEDIARE makes use of Cookies, which are text files sent by the platform to your computer and which are stored on it, which contain information related to website navigation. In short, Cookies are used to enhance the user experience.
By accessing our website and consenting to THE PRIVACY POLICY, you acknowledge and accept the use of a navigation system with the use of Cookies on your device.
Learn more about the use of Cookies

III - CHANGES TO THIS PRIVACY POLICY
The current version of the MEDIARE Privacy Policy was last formulated and updated at: 05 April 2021.
We reserve the right to modify this Privacy Policy at any time, mainly due to the adequacy to any changes made on our website or in the legislative scope, or due to the new nature of MEDIARE's services. We recommend that you review it frequently.
Any changes will take effect as of their publication on our website and we will always identify the updated versions by the date mentioned below the title: MEDIARE Privacy Policy.
By using our services and providing your personal data after such modifications, you consent to them.

IV - LIABILITY AND DISCLAIMER OF LIABILITY
THE MEDIARE provides for the liability of agents who work in data processing processes, in accordance with articles 42 to 45 of the General Law for the Protection of Personal Data.
We are committed to keeping this Privacy Policy up to date, observing its provisions and ensuring compliance.
In addition, we are also committed to seeking technical and organizational conditions that are sure to protect the entire data processing process.
If the National Data Protection Authority requires measures to be taken in relation to the data processing carried out by MEDIARE, we commit ourselves to follow them.
Although we adopt strict security standards in order to avoid incidents, there is no virtual page entirely risk free. In this sense, MEDIARE is not responsible for:
I - Any consequences resulting from users' negligence, imprudence or lack of skill in relation to their individual data. We guarantee and are solely responsible for the security of the data processing processes and the fulfillment of the purposes described in this instrument.
II - Malicious actions by third parties, such as hackers, unless proven guilty or deliberate conduct by MEDIARE.
We reaffirm that in the event of security incidents that may generate a relevant risk or damage to the Cardholder or any of our users / customers, we will communicate to those affected and the National Data Protection Authority about what happened and comply with the necessary measures.
III - Inaccuracy of the information entered by the user / customer in the records necessary for the use of MEDIARE services; any consequences arising from false information or entered in bad faith are entirely the responsibility of the user / customer.
Please be aware that our website may have links to external websites that are not operated by us and that we have no control over the content and privacy practices of those websites, so we cannot accept responsibility for their respective privacy policies.
If you have questions about this Privacy Policy or the personal data we process, you should contact us.
MEDIARE provides the following means for you to contact us to exercise your Holder rights: