By Tania Almeida *
David Cooperrider and Diana Whitney are pioneers in the idea of ​​diagnosing the health of companies and organizations in general. The professor and researcher of organizational behavior and the consultant dedicated to processes of organizational change, especially in the presence of new partnerships, offer us - and their clients - with numerous guiding lessons for favorable transformations in the business environment, gathered in the book of the duo Appreciative Inquiry: a positive approach to change management.
The strategic value of corporate health
Contrary to what, until then, was understood as the primary task of business consultants - diagnosing pathologies and prescribing solutions - resulting in redesigns and reengineering in corporate environments, the authors arrive wanting to know the strengths of the enterprises or contexts of coexistence - communities, institutions.
Allied to the strengths, David and Diana provoke the identification of the organization's and its members' abilities, honoring their competences and showing that their convergence in systemic action and towards the desired goals generate efficiency.
One of the duo's most significant works took place in June 2004, at UN headquarters, on the occasion of the Global Compact Leaders Summit, when Kofi Annan was secretary general of the institution. The meeting brought together leaders from relevant organizations - business, labor and civil society - and had the theme of a Global Compact that brought together recommendations and imperative actions for; (i) the sustainability of multilateral cooperation, (ii) the relationship between business and society, aiming at development, and (iii) the significant innovations and goals focused on human rights, decent working conditions, environmental preservation and anti-corruption.
What is Appreciative Inquiry?
It's a consulting nature/intervention geared towards social groups - from communities to organizations - that aim at processes of change and include all those interested in a promising and desired future for that group. This process includes investigating and strengthening past successes, insofar as they serve to ratify existing and necessary potentialities for the future that we want to achieve.
It rescues the best practices and the achievements achieved, taking them as motivation and inspiration for the goals to be achieved ahead. It strengthens competences and denounces its synergies towards the goals identified by the group.

Methodology
The methodology is based on questions that rescue strongholds through frank dialogue. It demonstrates that our options for the best of us are day-to-day and that the experience of offering the best of our skills can be conscious.
In practice, Appreciative Inquiry exchanges the analysis of a problem for the analysis of what it calls positive nucleus of a certain group: its strengths and best practices, innovations and competencies, social capital and aggregated knowledge, strategic values ​​and advantages, alliances and partnerships, among other aspects.
Changes, structural reforms or planning are based on the organization's positive core linked to agendas, priorities for change and new strategies. This context involves people from all segments of the organization, challenging them to redefine deficit issues in affirmative topics - what one wants to change / achieve.
It works with a cycle of 4 investigative phases:
Discovery

: engaging everyone in identifying strengths, skills and best practices.

Dream

: demanding from everyone a vision of the future that aims at results that

if you want to achieve and what

will be,

equally,

demanded by society.

Planning

: involving part of the group and aiming to achieve the identified dream, articulating the positive points highlighted in the discovery phase.

To

: positively strengthening the system so that it implements planning and sustains the desired changes, making the future concrete.
The role of leadership
Present throughout the process, they must promote and / or catalyze the positive change they want todye. Participate, like the others in the questionings, with an active voice and also offering questions, in addition to your perception. They work, in particular, with attentive and inclusive listening to all contributions received.
Assisted by consultants and the team that is applying this methodology, they actively integrate the planning phase - which has a team designated for this purpose (central team) -, its dissemination and implementation.
The role of other members of the organization
The consultants mentioned above make an interface between the leaders and the central team (dedicated to planning), and also act in the training of groups from the different segments of the organization, helping them to incorporate appreciative questioning into daily practice.
The central team is at the forefront of the planning and strategy phase, also using appreciative questioning in everyday life.
The other members of the organization are interviewed and trained, share best practices and outline the ideal organization. Create systems and structures based on planning done and in appreciative investigation, which also becomes a daily practice for them.
Principles for the Success of Appreciative Inquiry
After years of working with this methodology applied to dozens of organizations and communities from different cultures, the authors report organizational and social changes in the contexts in which they acted, as well as identifying what motivates people to do their best and to cooperate among themselves. towards a common goal.
The highlights, in fact, speak of what all human beings need, participating in any context:
Be recognized for their good performance in their functions and known as belonging to a group.

Have a voice and perceive their accepted contributions.

Dream together and have a partnership in the other that is also interested in a common goal.

Be invited to contribute and choose to participate in a project that envisions growth and sustainability.

Have legitimacy and support to act proactively.

To be integrated into a project that aims for positive changes and depends on them to carry out.
How does this theme articulate with Conflict Mediation?
In all!
Appreciative Inquiry looks to the future, redefines eventual inadequacies, visits the past especially to identify positive and successful skills and achievements, invites those involved to understand the convergence of their interests and goals, creating scenarios that use the best of each individual, for the well-being of each and everyone in the surroundings.
As mediators or as facilitators of everyday dialogues, in situations of crisis or potential conflict, this knowledge is worth incorporating into our business activities and into our lives.
Whatever the Mediation applicability scenario, questions that legitimize and highlight strengths, combined with the planning of actions that articulatem the best of each involved and respectm their differences, is a proposal that is extremely in line with the purposes of Mediation.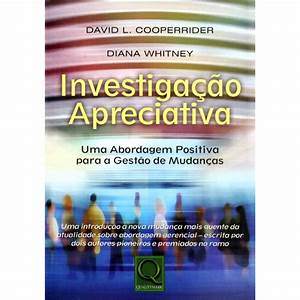 Appreciative Inquiry: a positive approach to change management, by David Cooperrider and Diana Whitney
Qualitymark Publisher, 2006 - 1st Edition
96 pages
In our next commented reading meeting, we will visit the work The Power of the Positive No: how to say no and still get to yes, by William Ury. It sounds like a super challenge, doesn't it?
* Tania Almeida - Master in Conflict Mediation and Facilitator of Dialogues between individuals and / or legal entities. For 40 years, she has been designing and coordinating dialogue processes aimed at mapping, crisis prevention, change management and conflict resolution. She is the creator and founder of the MEDIARE System, a set of three entities dedicated to dialogue - research, service provision, education and social projects.
Check out others Read with me here!